VISION/MISSION:
Marine Change is a specialist advisory firm. We focus on investments in the Asian marine sector that advance sustainable and financially-rewarding business opportunities, and that are socially and environmentally beneficial.
Our vision is to see disciplined, long-term investment support innovative efforts to renew fisheries and marine ecosystems, permitting them to recover from overexploitation and to support prosperity, food security and livelihoods throughout Asia.
WHAT WE DO:
We source investment opportunities that lead to improved supply chain efficiency, more sustainable product, and better financial performance among Asian companies engaged in marine resource utilization. We work with Asian companies that wish to develop more sustainable supply chains and scale profitably while meeting higher environmental, social and governance (ESG) standards. At the same time, we help investors to evaluate the ESG risk of any finance opportunity and establish action plans to improve ESG performance.
WHAT IMPACT WE PROVIDE:
Marine Change works towards delivery positive impact, adhering to the Sustainable Development Goals (SDGs) – specifically focusing on Goal 2, Goal 7, Goal 8, Goal 9, Goal 12, Goal 13, Goal 14, Goal 15 and Goal 17. We also work with our partner companies who are members of the Dow Jones sustainability Index and the UN Global Compact meet their commitments.
Marine Change is working with partners on creating sustainable annual impact reports, which can be used as a valuable tool to drive awareness and gain further participation at shareholder, government and client level. These reports will be third party verified.
SUSTAINABLE INVESTMENT CRITERIA:

Business Criteria

Stage of Company: Company with strong track record in seafood sector and seeking growth. Marine Change will consider early stage companies that can disrupt current unsustainable practices, have the ability to seize the opportunity and leverage strong off-taker agreements.

Type of Company: Marine Change seeks partnership along the entire seafood supply chain, both wild caught and aquaculture. Suitable partners are farms, fishing companies, traders, processors and innovative companies seeking solutions addressing key issues in the seafood sector.

Performance within Value Chain: Company has or can achieve competitive advantage, market is stable, there is opportunity to upgrade to higher value or ability to acquire more stable product positioning.

Competent Management Team: Strong management team with a successful history starting and/or managing companies, or has other industry experience and expertise.

Financial Criteria (Investment Terms)

Facilitation and Origination: Marine Change acts as a facilitator and originator. With Marine Change's extensive sector knowledge of off-taker networks and leveraging project-related investments (PRIs), we can help our clients develop a pipeline of investable projects, increase private sector investment and support growth.

Investment Range: Marine Change seeks investments ranging between $2-10 million USD.

Investment Structure: Marine Change supports the design of various investment structures (Debt/Equity/Mezzanine).

Exit Strategy: Depending on the structure Marine Change can design exit strategies that best suit our clients needs.

Sustainable and social criteria

Principles: Marine Change seeks for-profit companies with strong company ethos and commitment to sustainability and socio-economic impact. Companies must be willing to deliver improvements upstream.

Impact: Marine Change seeks to improve the overall quality and sustainability of the value chain with a focus on reduction in waste. ESG principles and minimum criteria for improvements will be applied to deliver greater efficiency.

Methodology: Marine Change has developed a methodology for wild capture and aquaculture production – evaluating risks, suitability, and impacts of investment opportunities. This methodology is also used as a basis for implementing ESG improvements.
ADVISORY SERVICES:
Marine Change's extensive field, experience across Asia and sector experience provides clients with evidence-based insights and knowledge-driven solutions.
Due Diligence: Marine Change assists clients in evaluating management teams, growth forecasts, valuation, product positioning, production and logistical risks, and off-taker relationships. By providing in-depth sector knowledge we help our clients make the right investment decisions. Our team has extensive experience and understands the social, sustainability, and policy risks associated with the marine sector in Asia.
Technical Services: Marine Change provides assistance to companies active in the fishery and aquaculture sectors and supply chains seeking to attract investment and improve their triple bottom line. Our team supports companies in developing business plans, capital structure, ESG assessment, and off-taker agreements.
Project-Related Investments and Match-Funding: Marine Change has developed a wide range of investments partners (Government, Multilateral, Bilateral, NGO) who could support the investment by providing subsidies, credit guarantees, soft financing and human capacity to reduce risk and offset initial transitional costs towards better resource utilization.
BUSINESS DEVELOPMENT AND ANALYTICAL SERVICES:
Marine Change has developed a resounding positive reputation amongst the marine conservation development and impact sector in Asia, having the ability to work with organizations on strategy planning and offer an array of services.
Value Chain Analysis and Incentive-based Inclusive Investment Models: Our team has developed multiple Value Chain Analyses (VCA) and investment models to align incentives within the supply chain and support the adoption of improved resource utilization and industry best practices. Our efforts support conservation outcomes such as marine protected areas (MPAs) and rights-based management (RBM).
Social, Economic, and Key Informant Surveys and Life Cycle Analysis: Understanding the initial baseline helps our clients understand the impact of the investment or intervention. Our team has experience in managing community and industry-specific field surveys, and producing baseline analysis, impact metrics and annual monitoring programs.
Economic Rate of Return (ERR) and Sensitivity Analysis: ERR and sensitivity models are critical to understanding the achievement of economic growth, while achieving efficient and sustainable allocation of resources – it therefore looks beyond one entity to consider the net impact of investments on all members of society using shadow prices. Shadow prices are the prices that reflect the economic value to society of the goods and services that the project utilizes to generate its benefits. Understanding a project ERR helps clarify the cost/benefit of activities and project investments, monitor and track performance.
Adopting Circular Economy Methodology and Considering Ecosystem Services Related Data: Marine Change is one of the pioneering advisory firms embracing circular economy methodology as well as using ecosystem services related data in our models where it is available. Our team believes these innovative approaches will be a crucial component to future project development and sustainable economic models.
Marine Change has also developed strong business to business (BtB) relationships and supported innovative company and financial structures with a focus on the following services:
Turn Key Solutions and Leasing Arrangements: Marine Change is working with investment funds and partnering with other service providers to create turn key renewable energy solutions and traceability platforms for the marine sector.
Reduction in Operational Risks: Our team works continuously with companies and industry associations to promote technologies that reduce risk and disruption within the supply chain. Marine Change recognizes technology will play an increasing role in promoting supply chain efficiency and transparency, and we support our clients with piloting, demonstrations, and assessing the costs and benefits of such systems.
Sustainable and Ethical Product Offerings: Marine Change has deep experience with sustainable and ethical product development and product placement. We understand the demand side of the global seafood markets. This experience helps our clients target the highest value products – understanding the capabilities of the supply chain and price sensitivity of the market is imperative to our success.
Company Origination and Growth Management: More and more investors and investees are seeking the services of Marine Change. Our team has deep experience with company origination/investment vehicles, and the operational experience to manage and support the investment and its intended impacts as it matures.

THE TEAM:
Marine Change's experienced team of industry and investment professionals.
CEO, Andrew Bassford has a 16-year track record at the intersection of seafood and sustainability. His experience spans both commercial and policy-making settings in Europe and Southeast Asia. As Director of Operations for Fishes, Europe's first certified sustainable seafood products company, he managed all sourcing and market development for this pioneering European fish brand that specialized in MSC certified fish. Over the past six years, Andrew has been at the forefront of a range of public and private sector efforts to drive the development of sustainable seafood supply chains. He has undertaken projects for development finance institutions (World Bank, Asian Development Bank, FAO), Asian Governments (Indonesia), and multi-stakeholder initiatives such as the Dutch Sustainable Trade Initiative and Fairtrade. Andrew was part of the founding team involved in creating International Pole and Line Foundation, which encourage low- impact fishing strategies that benefit ecosystems and local communities.
Director, Sari Tolvanen has worked in the marine sector for 16 years, building on extensive field experience as she moved from research to policy engagement in a leadership role with Greenpeace International. She played a key role in the organization's science-led programs focused on combating illegal fishing and improving the management of tuna fisheries in the Pacific and globally. In addition to leading global campaign and ship expeditions in fragile fishing waters, she was responsible for policy outreach work to groups such as the FAO, the Western and Central Pacific Fisheries Commission, and the Indian Ocean Tuna Commission and their member governments. Sari was also involved in leading Greenpeace's work focused on the seafood markets campaigns and related projects to support the development of smaller-scale sustainable suppliers.
Investment Advisor, Deborah Aragão focuses on improving access to finance through the implementation and development of private sector strategies to support smallholder producers and small and medium enterprises (SMEs) with 13 years experience. She combines the dual capacity implement projects at smallholder level with transactional experience at various types and sizes of investment vehicles. In Latin America, Africa and Asia, Deborah has led the operations and growth of impact investment funds both from the field and at head office for Conservation International and Fauna & Flora International. At the transaction level, she worked in the structuring of project finance investments at the Inter-American Development Bank and financing of microfinance institutions with Incofin Investment Management. At the strategic level, Deborah has developed and implemented strategies to support smallholder producers and enhance the SME ecosystem with TechnoServe Inc. She holds a Masters Degree in Development Management from American University and a degree in International Studies from the University of Wisconsin. Deborah is fluent in Portuguese, English, Spanish and French
Corporate Finance Analyst, Roderic Hodges is a financial modeling specialist with 5 years of professional experience in investment banking, buy-side investing, and financial consulting. Prior to his career in finance, he volunteered for two years in Peace Corps, a United States government agency, working with local communities to slow deforestation on the ecologically fragile island of Madagascar. Outside of work, Roderic's affinity for scuba diving sparked his interest in marine conservation, after which he was compelled to learn more about the challenges facing the oceans as well as potential policy solutions. Originally from the central United States, Roderic has lived in Madagascar, South Korea, and Malaysia. His most recent professional experience includes work with KPMG, one of the big four global professional services firms, advising multinational corporations on the valuation of assets associated with mergers, acquisitions, and restructurings. Roderic's education includes a BA from the University of Hawaii and an MBA from Johns Hopkins University. He currently resides in Chicago, USA.
Associate, Karin Merle has been working on sustainability and economic development over the last 12 years, ranging from developing new business models to advising policy makers on incentives for sustainable consumption and production in Latin America and South-East Asia. Karin has implemented assignments for development finance institutions (European Union, German Development Implementing Agency GIZ, German Development Bank KfW), Asian Governments (Indonesia, Malaysia, Philippines, Thailand), and the Asian and European private sector, aiming at pushing and pulling the greening of products, services and business models. Recently she has supported Indonesia and Malaysia with their Sustainable Consumption and Production Policy and conducted a study on Mutual Recognition Arrangements in ASEAN (all EU-funded). Also she supported rural entrepreneurs in Indonesia to design their business model canvas and financial plan. Karin is great at crunching information, engaging people and shaping solutions.
Associate, Karli Thomas has worked on marine conservation and sustainable fisheries since 2002, in roles ranging from guiding divers in marine reserves to advocating for global marine protection at the Convention on Biological Diversity. Initially focussed on local marine conservation and environmental education in New Zealand, she moved on to international work in 2005 with Greenpeace, based in Amsterdam. For four years she led Greenpeace's oceans campaign in the Mediterranean Sea, promoting a regional network of marine reserves and pushing for sustainability controls on bluefin tuna fisheries. Returning to the Pacific in 2008 she focused on improving the sustainability of fisheries in the New Zealand and Pacific region. Successful projects included industry, retailer and consumer-focused efforts to establish a market for (and dominance of) sustainable canned tuna in New Zealand, public awareness and government lobbying to secure a ban on shark finning and inter-governmental advocacy within the New Zealand government delegation to improve tuna management under the Western and Central Pacific Fisheries Commission. Karli has extensive experience in fisheries policy, advocacy, capacity building, seafood market trends including the certification process and fisheries surveillance.
Associate, Suri Hapsari is an administrative professional with a focus on internal process improvement. She has 14 years of professional experience in a wide array of roles including regulation development with a parliamentary commission, data production cooperation with an international donor, website development management, business management consultancy and training projects, project management to help improve the sustainability of one-by-one tuna fisheries, and event organization. She has a master's degree in information technology from the University of Indonesia and a master's degree in professional accounting from the Australian National University. Suri is a native of Indonesia and a fluent English speaker.
Associate, Alex Marren is a project management consultant with 4 years of professional experience. Educated at Loughborough University in architectural engineering and design management, Alex has experience in the design and implementation of best-practice project management processes on large capital improvement projects in several industry sectors, including energy and transport infrastructure. Alex has worked as part of the client's representative team for the construction phase of a £300m rehabilitation centre in the UK; and as a transition manager, part of the team transferring between contractors the delivery of a £650m global headquarters. Prior to joining Marine Change, Alex's professional experience included working for Arup, an engineering and consultancy firm working across the built environment. Alex also has experience in both the development and construction phases of a large multi-disciplinary project in Asia.
Project Coordinator, Ima Yusmanita has 5 years' experience in project management, journal publishing, and media monitoring research. Her previous work includes presenting a focus group discussion report about women's empowerment as development strategy, organizing an export coaching program for SMEs, and team coordination at an international trade show. During her previous work as a project coordinator, she supported Indonesian SMEs in brand and product development at several international trade fairs. She graduated from the University of Technology Ilmenau, Germany in 2017 with a master's degree in media and communication science.
Junior Associate, Nuraini focuses on tourism and fisheries in Marine Protected Areas, and has a strong interest in the economics of marine conservation. Prior to joining Marine Change, she worked for a business promoting sustainable fisheries and responsible tourism. She believes that marine conservation programs should be coupled with an economic rationale so the local community will support the conservation agenda. Nuraini has a Master's degree in aquaculture and marine resource management from Wageningen University and Research, The Netherlands, and a bachelor's degree in biology from Bandung Institute of Technology. Nuraini is a native of Indonesia and a fluent English speaker.
Junior Financial Analyst, Dominick Hardjani is proficient in analysing company financial statements and conducting market share and operational cost assessments. Prior to joining Marine Change, he interned at Deloitte, a global financial services company, where he conducted research and market analysis to improve financial modeling outcomes. Dominick holds a bachelor's of finance degree from Prasetiya Mulya University. He is a native of Indonesia and a fluent English speaker.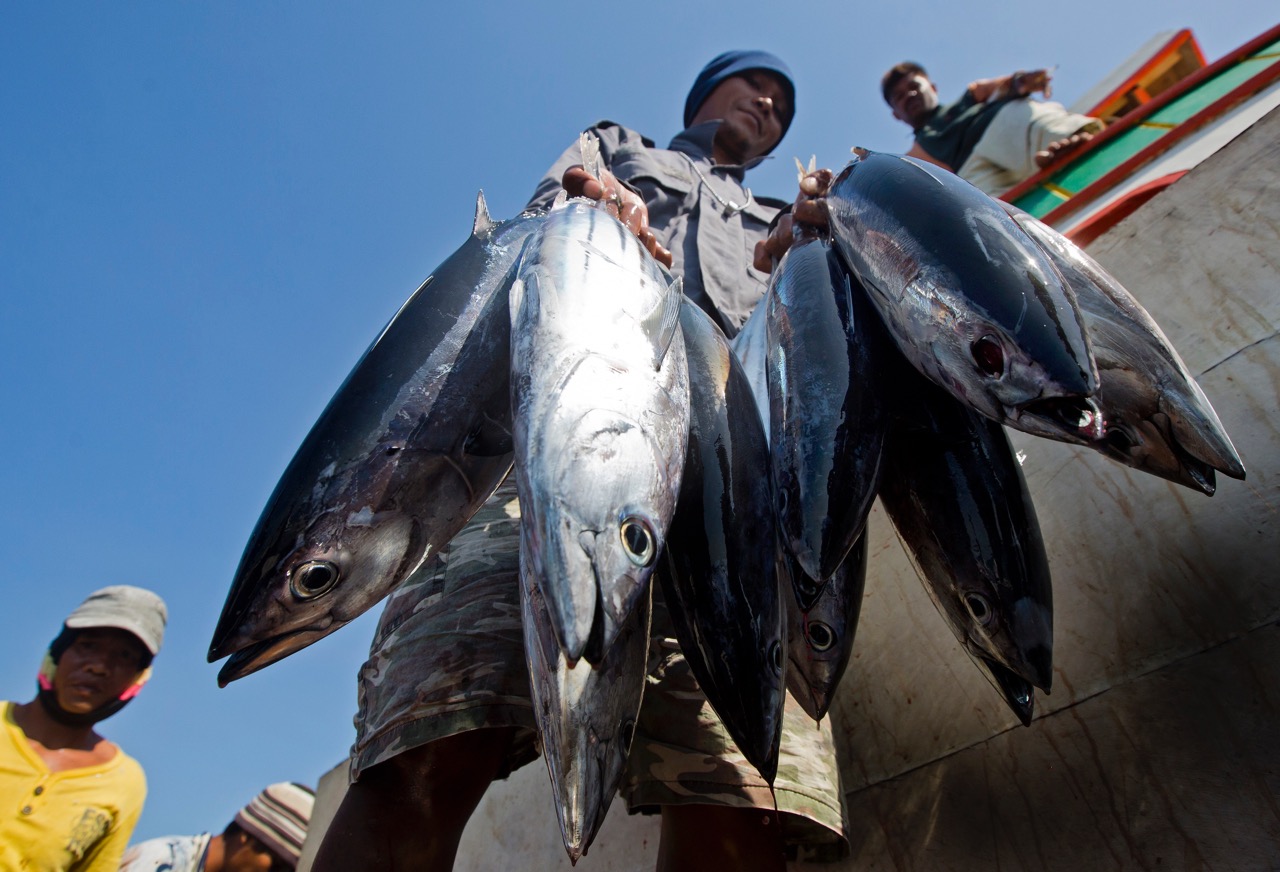 Marine Change Ltd
9 Queens Road, room 2405, Central Hong Kong
PT Konsultasi Investasi Kelautan (Marine Change Indonesia)
Gran Rubina Business Park 16th Floor Unit E,
Jl HR Rasuna Said, RT.1/RW.5, Karet Kuningan, Setiabudi, Jakarta, Indonesia
contact@marinechange.com